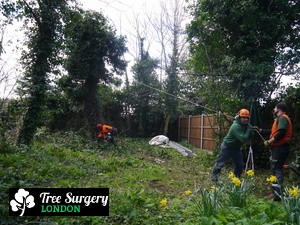 Tree felling means that we will remove the better part of your tree, but the stump will remain. Ensure that the trees in your garden don't threaten the safety of you, your family or your property. Call qualified and fully insured tree surgeons to remove old, diseased trees safely – whatever tree felling you need done in London we have an affordable and trustworthy service for you.
Your Arborist Services of Choice
Generally improve the curb appeal and landscaping of your garden. Here are a few things you can be certain of when you choose us for your tree felling:
We're always easy to contact – you can speak to a member of our office staff 24-hours a day;
No obligation quotes on all work;
All felling and removal of branches and greenery is professionally undertaken by properly qualified tree surgeons;
Affordable rates and the potential for reductions when you book multiple tree care services;
We may be able to provide you with a quote only based on photos of the ill tree.
Dismantling and felling an old tree in a confined space is a job that should be undertaken by an experienced professional with the specialised tools needed to conduct the operation without risking damage to people or property. We have it all:
▸ Specialised equipment (smaller tools)
▸ Safety equipment (for the technicians)
▸ 6 different chainsaws used according to the tree's shape and size
▸ Shredder
▸ Special climbing boots
▸ Ropes and ladders
Check out our customer reviews to see what other Londoners have to say about our professionalism and careful workmanship.
Book Your Tree Felling and Removal in London
Call us any time on 020 3404 3305. Our customer care team are waiting right now to take your call and arrange your no obligation quote. You can use this number to book any other service as well.
When you'd prefer us to call you, just go to our contact form and fill out your details – we'll be in touch.